Launching an online store can be an exciting but overwhelming experience. To ensure a smooth launch and avoid any last-minute surprises, it's important to have a Shopify launch checklist. A launch checklist should include steps such as adding sales channels, setting up a payment gateway, customizing the theme, creating a marketing plan, testing for successful and failed transactions, and more.
Before starting, you should ideally have identified suppliers or a dropping system through a platform like Oberlo with minimum 10-20 products in your store. This will provide variety to customers without overwhelming them. You can always add more products later.
"Good checklists provide reminders of only the most critical and important steps"
Preparing  your Shopify Launch
To get started, you'll need to set up your Shopify platform, decide on a target audience, choose products, design the site, connect a payment gateway, choose
A Shopify launch checklist ensures no critical steps are missed, streamlines your workflow, and holds you accountable. We've broken things down into 16 steps so you can start making sales immediately. (This list assumes you've already chosen a Shopify store theme and have your content and products ready to go. If you haven't already, here's how to set up a Shopify store.)
Step 1: Build a Shopify Sales Funnel
It all comes down to a plethora of testing, as there's no out-of-the-box solution for your unique brand. Secondly, it's essential to pinpoint early on which of the sales channels will be the most beneficial for you so you can double down on them.
Find out what the most beneficial activity is for you.
Identify any areas of your life that could benefit from improvement.
Analyze the benefits and drawbacks of different activities.
Establish realistic goals for yourself.
Make a plan to implement activities that are most beneficial for you.
Monitor your progress and evaluate whether or not you are achieving your desired outcomes.
Make adjustments to ensure that you get the most out of your efforts.
Celebrate successes and use them as motivation to continue pursuing what is
The truth is that multichannel marketing is where we're headed. In other words, brands must engage and provide value across all channels.
Throughout the marketing funnel, omnichannel marketing provides users with a consistent marketing experience across all platforms, channels, and devices. The primary goal of omnichannel marketing is to center all marketing strategies on the customer and provide a consistent, seamless experience.
According to Neil Patel, omnichannel marketing is becoming more popular, with 67 percent of e-commerce companies saying it is "very" or "quite" important to their business. More information on this subject can be found here.
Keep calm because you've only recently launched your new Shopify store. Working well with one or two channels is the best thing you can do for the time being.
Here are some examples of popular brand-winning channels.
GoPro's social media success
This channel is social media, particularly Instagram, for GoPro. One of the primary reasons for GoPro's success is that its products allow users to share their experiences from the heart of the action with others. GoPro's Instagram account is used to showcase the quality of its products and connect with its target audience by featuring user-generated content.
For example, social campaigns like their One Million Dollar Challenge were very beneficial for them.
A complete breakdown of their campaign can be checked in this article.
The No. 1 best-selling Adidas Samba Vegan Shoes are arguably at the top of the list of sneakers that meet the mark in terms of style, functionality, affordability, and versatility.
The sneakers are so well-liked that they quickly overtook all other sneakers on TikTok. This prestigious award is due to the style's wide size range, comfortability, and ability to pair perfectly with almost any outfit.
adidas also kept this product exclusive to adidas, making it unavailable elsewhere and ineligible for any promotional campaigns.
You don't have to spend outrageous sums of money on paid advertising to get started. You can experiment with various growth levers to attract your first group of clients. Have you considered additional levers and built those out, even if your business is large or much over the $100k or perhaps $100M mark? If not, do it now. It's your responsibility to do all in your power to make people feel at ease with your product because once they do, they will never have any trouble recommending it to others. That can entail doing more in-depth work on your company's beliefs or ensuring your brand stands for something admirable and positively reflects the person using it.
One question you might have: Should my business be on TikTok?
Probably yes. Today, TikTok is the trendiest new social media platform available. TikTok was mainly used by tweens and teens as lip-syncing video software not so long ago. It's time for your company to start paying attention to it because it's becoming THE NUMBER one platform for building a digital brand and will continue to grow.

Find more statistics at Statista
Topics like DIY tricks, food, travel, health, beauty, and fashion started to trend during the COVID pandemic, drawing a new audience to the site. By developing a unique TikTok marketing strategy centered on the kinds of videos their audience enjoys watching, brands and retailers are now maximizing the chance to engage with this larger audience.
Among the advantages are:
Creating a new, extremely engaged audience increases brand exposure.
Showcase your products in organic posts and advertisements to increase sales.
Participate in trends to keep your business relevant to your clients.
Monitoring your performance will help you produce better content that gets results.
Uncertain about where to begin? Here's a quick bullet list of what content works on TikTok:
educates
informs
inspires
motivates
Teach someone why they're missing out by not being your brand's customer. Please give them a reason to care and then provide them with a way to act.
Step 2: Checklist for Picking and adding your Shopify Custom Domain
A custom domain is essential for branding. What's easier to remember?
One of the most crucial choices you'll make for your company is the domain name for your e-commerce website. Users will initially come into contact with your name, which is a mental placeholder for your company.
Additionally, you should confirm that the domain name you select is available for purchase. And that it exactly (or very closely) corresponds to the name of your company or brand. Start by responding to the following inquiries before deciding on a name for your online store:
What ideas and emotions do you want the name of your business to evoke?
How do you pick a domain name that users will quickly recall?
Do you want a specific word or phrase in your domain name?
How much can you spend? A domain that isn't registered won't cost much, but an established domain may.
You have two options when coming up with titles for your e-commerce website:
To wait for an inspiration to strike and then hope your domain name is still available.
 You can take the initiative and conduct some thorough, efficient domain name research.
Here are some evaluation standards to assist you to select the best domain name by reducing the options. Remove any candidates from your list who don't meet the requirements.
Your Shopify e-commerce store address should be:
Easy to recall (3 words or fewer is a good target)
Minimum possible length (approximately 17 characters or less)
Simple to type and read
Simple to say aloud
Unique
Honest and reliable in your business
If you're not using a new top-level domain like health, only use.com domains in the US.
Not be utilized by other businesses
Not include hyphens or numerals
Avoid becoming wed to a single term or phrase. When you're ready to filter your results, you might already have a few favorites. Be prepared to reject it and move on if you discover it doesn't meet the abovementioned requirements. You should wait for a better domain. Whether available, more accurate to what you sell, too long or difficult, or just in use by another company. Once you've chosen the ideal domain name, you can create your online store.
Step 3: Analyze Your Checkout Process
Before driving traffic to your Shopify store, ensure potential customers can complete the checkout process. According to research, the average cart abandonment rate is 69.8%. That means 7 out of 10 customers will leave your store without making a purchase.

Find more statistics at Statista
As an eCommerce entrepreneur, the best thing you can do is preview your checkout process and remove as much friction as possible. Make it as simple and informative as possible.
Check for the following mistakes that may be causing customers to abandon their carts: –
Payment method: You should use a secure merchant account. Ideally, you'll want to use Stripe or another payment gateway that allows you to accept credit cards, American Express, Discover, MasterCard, and Visa payments.
You should set up a merchant account to accept payments rather than using third-party solutions.
Shipping address: Make sure the shipping address is accurate and up-to-date.
During the checkout process, shipping rates are displayed.
Discount codes can be applied (and work properly) in the cart. Customers can edit their carts.
Customers can select from a variety of familiar (trusted) payment methods.
Option for tracking order status
The contact page is easily accessible in case order changes are required.
Order receipt confirmation via email/purchase confirmation
Shipping policies for international sales are explicit.
Options for language and currency conversion for international sales
Step 4: Verify Payment Configuration
Shopify works with more than 100 payment gateways. You need to ensure your account is configured correctly to work with the ones you choose. Make sure your payment gateway accounts are set up correctly so that payments can transfer to your bank account at your chosen interval.
Also, make sure to review all local payment options, as some countries, such as Indonesia, use Midtrans, whereas, in others, Klarna is more popular. Keep this in mind to increase conversion and keep customers returning.
Step 5: Create your Essential Custome Journey
Before you launch your online store, you should have a few pages where people can learn more about your business. According to research, consumers have product-related, customer-related, and societal-related concerns. The products and their quality are the most common reasons people trust a brand (88%), while good ratings and reviews also play a role (63%).
More than half of the consumers believe that brands that treat their customers well earn their trust. More than one-third of consumers say how a company treats its employees influence their trust. As for societal concerns, more than half of consumers say how a company treats the environment plays a role in how they feel about a brand's social mission.
With this information in mind, ensure that your website contains at least the following standard pages, complete with content:
The homepage is essential to your site because it sets the tone for the entire experience. And unfortunately, no matter how great your brand is, some people will never get past the homepage. Make it count – first impressions are difficult to overcome. Maintain straightforward navigation so that people can easily move from page to page.
About Page: This is where you tell people about the company's history, the brand, and the people who work behind the scenes. Many store owners overlook this page, but it can be an effective sales tool when done correctly. Your about page is an opportunity to reassure customers that your store is legitimate and they can invest in your brand. Many people prefer to shop with companies that share their values. So sharing your mission and company values allows you to connect with new customers who support similar causes.
Contact Page: This shows that you are a legitimate business, so don't skimp on it. Include your phone number, email address, Social media, and the address of your eCommerce store (if any). Also, include a contact form so visitors can reach out to you without leaving the page. If you have multiple contact points, categorize them such as general inquiries, press, wholesale, etc.
Questions and Answers (FAQs): When you launch, you may not know which questions customers will ask the most. But you can get a good idea of what you should answer by looking at what the competition shares. And you can bet that people will have questions about your shipping and return policies and how to contact you. If your FAQ page contains a lot of information, include a search box to make it easier for users.
Store Policies Page(s): People may want to know about your shipping and return/refund policies before you. Having these on an easy-to-find page (or on their pages). It is an excellent way for people to get the answers they're looking for without needing to reach out to you. (Did you know 39% of people would rather clean a toilet than sit on hold with customer service?)
Step 6: Confirm Your Email Alerts Now
Email marketing for Shopify businesses lets you interact with your customers and personalize their pre- and post-purchase experiences. Creating an email list and keeping subscribers engaged can help you increase relevant traffic, brand awareness, and sales. We recommend getting started with the essential Shopify automation emails before setting up advanced Tools like Klaviyo.
When launching, you should configure at least these basic automated email flows:
Confirmation, Edited, Canceled, Refunded, Draft Order Invoice, POS Email Cart, Abandoned Checkout, POS Exchange Receipt, Gift Card Created, and Gift Card Refunded are just a few of the order emails you might receive payment Errors.
Email related to shipping includes delivery, update, ready for delivery, and confirmation emails.
The words "Ready for Pickup," "Picked Up," "Out for Delivery," "Delivered," and "Missed" can be found in emails for local pickup and delivery.
Examples of customer emails include DeliveryAccountInformation, Account Welcome, Password Reset, and Contact Customer.
Step 7: Perform a Comprehensive Content Analysis
Minor errors, particularly spelling and grammar and broken links, can be challenging to detect when you're close to the work. Examine each piece of content with fresh eyes at least a few hours after you upload it.
Work from the bottom up, beginning with the last paragraph, because errors are more likely to stand out.
It's crucial to be consistent while writing copy. Decide on your editorial style guide and adhere to it (will you use the Oxford comma?). Use it when and when it makes sense if your brand permits some spelling and word-creation freedom (Etsy, Pinterest, and Groupon are just a few examples of made-up terms that have become well-known).
Don't forget about the technical details. Verify that each link is active, and if any of the URLs are incorrect, fix them.
View your site on multiple devices to ensure all the images render correctly and the mobile responsiveness works correctly. Check your site across multiple browsers to ensure it displays how you intend and there aren't any browser-specific errors to solve ahead of the launch.
Step 8: Perform Content Optimization
When discussing content optimization (SEO), search engine optimization is frequently mentioned when people discuss content optimization (SEO). This does not imply that you should optimize your content, particularly for search engine bots.
Contrarily, when you optimize your content for people, it automatically becomes search engine friendly.
If you have images or videos on your site, optimization is essential. Slow-loading images degrade the user experience. When this happens frequently, Google will be less inclined to rank your site high in the search results.
SEO audit tools and website graders can assist you in optimizing your content.
However, it is not only about increasing speed (read: compression and hosting your videos on YouTube or Vimeo.)
Use descriptors to name your files. Ideally, describe what's in the image and use the keywords you're attempting to rank for when appropriate.
Fill out the image ALT attributes for each image. This is important not only for SEO but also for web accessibility. Keywords are important, but just like file names, try to describe what's in the image – that's what screen readers use to show those with low or no vision of what's on the screen.
Take note of the file size. You may have a large pixel image suitable for printing, but you do not need to upload such a large file for thumbnails that are only 5050. The longer it takes to load a file, the larger it is.
Use the appropriate file types. Some file types are better suited for web use than others. JPG is recommended for photography, whereas PNG is best for icons and graphics.
Everything should be tested. Split testing, also known as A/B testing, can help you determine what works and doesn't. Try some images with a white background and some with context. See what your target audience responds to the most.
Step 9: Set Up Your Analytics Tools Now!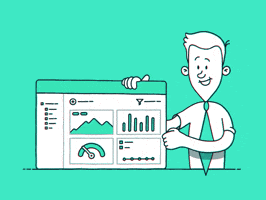 Analytics are essential for understanding your audience's actions while visiting your website. Your Shopify store's analytics reporting tools will be available in the dashboard, but installing a third-party tool such as Google Analytics or Adobe Analytics can provide you with even more information. Analytical data has many benefits, but the most important benefit is that it allows you to make informed business decisions. This can be done by analyzing historical data, allowing you to predict and plan for future sales and trends.
Most third-party analytical tools will require a bit of HTML coding knowledge. If you cannot do this yourself, you can use a Shopify app called Google Analytics+, which will help you easily integrate Google Analytics into your Shopify store (see below).
Once you have set up your analytics tool, it's time to start measuring your metrics—more about this in this article.
What metrics should I consider?
All metrics are important, but your chosen ones depend on your ultimate goal. In general, the 15 most common metrics that eCommerce stores will focus on are:
Sales conversion rate
Average order value
Customer lifetime value
Customer acquisition costs
Shopping cart abandonment rate
Return customer rate
Bounce rate
Net promoter score
Click-through rate
Sessions by traffic source
Customer sessions by device type
Visitors by location
Top products by units sold
Month-end inventory snapshot
Average inventory sold per day
Step 10: Create Your Pre-Launch Marketing Strategy
Websites aren't the type where "if you build it; they will come." Make sure people are aware of your launch after it has occurred. Making a marketing strategy ahead of time is always a good idea. When hiring a web designer, you may want to look for someone who is an expert in the field you need. For example, if you are looking for a service provider specializing in database optimization and online marketing, don't hire a web designer with expertise in graphic design and website creation. You will save time and money by hiring a specialist from the beginning.
The graphics you use are essential. Keep in mind that bitmap images are not usually the best images to use. Try PNGs instead. For text buttons, screenshots, and other images that are not photographs, use PNG for images with over 256 colors and GIF for images with less. JPEG images can be used for photos.
While you may wish to play a large role in the design of your site,
When y the entire project on your own. Website development requires knowledge of many different areas, including graphic design, user interface design, web programming, and search engine create a marketing strategy, putting it into action is as simple as following a checklist like this one.
Step 11 – Double-Check Your Tax and Shipping Settings!
Check that your tax and shipping settings are correct for your selling items. If they're off, you might lose money because you're not charging enough. Checking these settings twice ensures that you're charging enough. This is especially important if the nature of your business and the location of your customers require you to set (and pay) sales tax.
Consult an accountant who is familiar with taxes in your area if you are unsure about the correct tax settings.
Step 12: Make sure you're reachable by visitors
Yes, we've already discussed the importance of having a contact page, but it's not the only place on your website where your contact information should be listed. Please include your contact information in the footer of your website so that visitors can get in touch with you no matter where they are.
Install a live chat option on most of your website's pages so visitors can contact sales or customer support whenever they have a question or concern. Why? Because according to Forrester, 50% of adults will abandon a purchase if they do not receive a prompt response to their question. Do you want to increase sales on your eCommerce website? One method is to use quick and easy contact methods.
Many companies cover this well. There is an address, phone number, and map for the leading international office. There is also a contact form.
But thanks to the evolution of machine learning, we now have bots that we can use for many scenarios.
Commerce bots can help your company save time and money. They can increase customer satisfaction by providing prompt and efficient service. They can also help you generate leads and sales if properly programmed.
Boost your store's conversions.
One of the primary advantages of these solutions is that they can assist in increasing sales. A chatbot in eCommerce can persuade customers to make purchases by providing information about your products and services, answering their questions, and directing them to your website or landing pages. According to one study, 47% of users will consider purchasing items through a bot and are willing to spend around $55 on such purchases.
Increase time to value with AI.
Chatbots can also help customers instantly by informing potential customers about your products and services, answering their questions, and directing them to your website or landing pages. They can also collect contact information from customers, allowing you to create personalized shopping experiences for them later.
Step 13: Get Your Favorite Apps Installed!
Although there are a lot of apps in the Shopify App Store, you should resist the urge to install them all. While many are free, others have recurring monthly fees that can quickly add up. Not only that, but the more apps you use, the slower your website may load. Because each app requires resources, installing only the necessary apps keeps your online store running as smoothly as possible. For ideas, check out this list of the best Shopify apps.
Step 14: Input your Payment Details for Billing Setup!
Before your free trial expires, you must select a plan and enter your billing information into the system. If you don't have this information by the end of your trial, you won't be able to accept or process orders. Note: If you're an existing user who has entered your billing information, you don't need to do so again. Your current plan will re-activate when your trial expires.
Pricing plans
If you have a Basic or Premium Shopify plan, then you can choose the following pricing plans to continue using Shopify after your free trial ends:
Option 1: Pay only for the features you use. If you don't need recurring orders and fulfillment services, then you can use the Online store plan in Shopify. With this plan, you pay for only the features that you use. You can upgrade to the Advanced Shopify plan if you need to use Shopify Shipping.
Option 2: Get unlimited orders and a shipping discount. If you want unlimited orders in your online store and receive shipping discounts, then you can use the Lite plan in Shopify. This plan costs $9 USD per month
You can find more details of Shopify billing here:
Step 15: Ready, Set, Go: Launch your Shopify Store!
Once all pre-launch preparations have been made, it's time to launch your Shopify store! Get rid of the default password protection, double-check for errors, and spread the word that you're open for business. And don't forget to take out that pesky "powered by Shopify" branding. You're now ready to open up shop!
Step 16 (More advanced): Alert customers proactively about potential order delays!
Delays occur. Wonderment allows you to automatically notify customers about stalled shipments, whether your warehouse is slow to fulfill items or whether weather delays are affecting specific regions.
Prevent complaints by dealing with delivery delays.
Through Slack or Gorgias, notify your CX team of stopped shipments.
Provide regular email and SMS order updates to your clients.
On average, customers of Wonderment report a 40% drop in "where is my order?" tickets.
Remove the blind spots in your fulfillment process and start with for example out-of-the-box tools like Wonderment.
Wrap up with a final note
Checklists are an easy way to help even the most inexperienced workers to complete the task successfully as also confirmed in the great book "The Checklist Manifesto" is written by Atul Gawande. The book emphasizes human productivity.
Now that you have a Shopify pre-launch checklist, it's time to get your store up and running. And remember that these are amazing times<; It's super exciting to lock you in the office or work intensely remotely for a few days and turn your new founding team into a mini-family. That is one of the most enjoyable aspect.
So follow the 16 steps outlined in this post, and you'll be ready to start turning your eCommerce Shopify store into a conversion machine.